Landscaping is a great way to spruce up any area, especially a residential one. It turns a pile of rocks and dirt into something beautiful and livable. But, it might be considered a privilege that only some people can avail of. Even if they want to grow a garden or put up lawn chairs, they'll need a wide-open space on their property.
Then, suppose they have no interest in doing the work themselves. In that case, they will need a hefty budget to hire professionals who can turn a drab yard to an aesthetically pleasing outside living area. If they choose to seek professional help, that's where a construction schedule software comes in– because there's more to landscape construction than just planting. If you're a project manager or contractor who needs a crew who specializes in landscaping, you can do away with clusters of Post-Its that are just confusing and messy. Instead, have an all-in-one tool that can create a builder schedule and keep track of the project's progress.
Moreover, while landscaping tends to lean toward aesthetics as a priority, it still needs to be safe, stable, and functional. So, construction crews need to be made up of qualified and skilled workers, which usually ends up being a rather large group. A project management software will come in handy to aid in keeping everyone in line and overseeing the crew and project, especially for more significant projects. For example, say a hotel requires a major renovation. Of course, the job would require multiple contractors and subcontractors with varying areas of expertise. So, a subcontractor scheduling software can be of great help in the project's clean and smooth progress.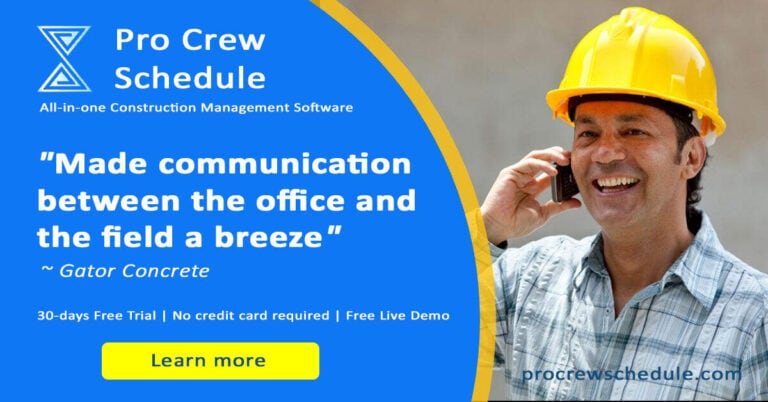 Landscape construction vs. Landscape design?
As previously mentioned, landscaping is not as simple as scattering some flowers and furniture in an area to make it look nice. In fact, many people are confused about whether to call a landscape designer or a landscape construction company.
To put it simply, landscape design is the finished idea or concept made visual through media like a sketch or a Computer-Aided Design (CAD) drawing. On the other hand, landscape construction is how that idea is brought to life through the labor of a skilled and qualified team of workers.
While the landscaping industry still falls under the broader industry that is construction, workers in this field require more specific abilities and common construction skills. These include:
● Horticultural skills;
● Understanding and interpreting the client's and landscape architect's design and ideas; and;
● Planning and constructing drainage and irrigation systems.
7 Principles of Landscape Design
1. Unity
There are two concepts under unity: repetition and consistency.
Repetition in landscape design is the repeated use of certain elements, such as plants and decor, to show a clear theme and design. On the same note, consistency uses varying elements with the same theme to create a straightforward design and unit.
2. Balance
Simply put, balance is a sense of equality. However, this does not solely mean having the same things on both sides– this is only one type of balance, symmetrical. However, there is another type, asymmetrical, which means having different elements on both sides but still having the same imaginary weight.
3. Contrast and harmony
Harmony, like unity, keeps the whole composition looking unified while contrast highlights particular objects and elements. When placed beside each other, contrasting elements can draw people's attention to them. Landscapers can achieve contrast and harmony by placing complementary colors next to each other or juxtaposing certain elements.
4. Color
Colors add not only life and beauty but also depth and dimension to a landscape design.
● Warm colors make objects seem closer; while
● Cooler hues create distance between the viewer and the items, giving perspective.
5. Line
Lines make up the entire landscape design. From passages to furniture, plants to structures, lines make up all of them. In addition to that, they add perspective to the entire composition, giving depth and dimension, aside from color.
6. Proportion
Generally speaking, a proportion is the size of an element relative to another. It is okay to have elements with varying proportions but it has to be proper and unified; otherwise, it will throw the composition's balance and harmony off.
7. Transition
Transition is simply defined as a gradual change. The transition can be done in landscape design through varying sizes, colors, textures, and even shapes. The purpose of transitions is to avoid abrupt changes that may look messy and harsh.
5 Landscaping Trends In 2020
Whether you're a professional landscaper or a creative homeowner, here are some things you might want to consider incorporating in your landscape. 
1.A yard for all seasons
This year, it's all about practicality. So, it makes sense to design a yard that is fit for all seasons and has multiple functions.
Instead of landscaping every time a new season rolls in, you can get the most out of a landscape with a few simple structures., no matter the weather, such as pergolas, outdoor heaters, and awnings. There are elements, like plants, colors, and textures that look great all year.
2. An edible garden
Growing an edible garden does not only look appealing but is also practical and cost-efficient. Instead of spending money on produce in the grocery, people can cut costs by harvesting what they have in the backyard, and they know it's safe to eat because you grew them. With a wide range of vegetables, fruits, and herbs that can be planted, it's also eco-friendly because it can reduce carbon emissions by taking fewer trips to the grocery store. 
3. Plants that can survive a drought
This trend is wildly popular in dry places like California, Arizona, and Texas, where droughts happen often. However, they can still add color and texture to their surroundings with drought-tolerant plants like Russian sage, California poppy, coneflower, and Agastache.
4. Pollinating plants
By planting pollinating plants, you can have a beautiful landscape and do something good for the environment. Because pollinator plants are slowly decreasing in number, pollinators, such as bees and butterflies, have to travel far distances to pollinate. That's why homeowners across America have decided to add pollinating plants, like milkweed, aster, and wild bergamot.
5. Vertical gardens
Locations with a more significant surface area have the advantage when it comes to landscaping. However, vertical gardens are the solution for people who want to be surrounded by plants but with limited space. Wall-mounted containers and vining plants are the most popular approach to this.
What Not To Do in Landscape Design and Construction
A lot can go wrong in a landscaping job, no matter how simple. Here are some typical landscape design and construction mistakes you should avoid doing to prevent problems from happening.
1. Choosing the "less expensive" option
Indeed, landscaping is not a cheap industry to invest in. That's why most people opt for the most affordable methods, not realizing that choosing quality over quantity can save more money in the long-run. Take concrete and pavers, for example. Concrete is the cheaper option, but pavers are more durable and tend to look better than plain concrete on walkways.
2. Aesthetics over function
It is common for people to prioritize a pretty yard than a functional one. This can lead to several issues in the future. However, professionals should be able to advise homeowners and clients to think of functionality and safety over aesthetics. For instance, a fountain would look nice, but space could be better utilized as an outdoor lounge or dining area.
3. Failure to connect the indoors to the outdoors
Not many think to have the outdoors be an extension of the indoors, but a landscape design centered on this idea is a great way to integrate unity and conciseness. If they think of these areas as two separate elements, chances are the finished project would messy and cramped. Luckily, there are tricks landscapers can do to connect the inside to the outside and make the whole area seem larger.
4. Forgetting about lighting
Many people tend to neglect what the landscape looks like at night; some just reply to natural sources, like the moon and stars, to illuminate their evenings. So, they don't think about additional lighting. Be that as it may, adding other sources of artificial light can do wonders for the area's design and functionality.
5. Taking things one at a time
For landscaping, it is better to think of the bigger picture. While practical, a piecemeal design can disrupt the overall design's unity, which is one of the landscaping principles. One solution is to have the design is completed upfront, but the construction can happen in certain phases whenever the clients are ready. This way, there is a clear plan that maximizes efficiency and functionality while giving the option to save up before construction.