Pro Crew Schedule -
2.8 Updates
See what's new in Pro Crew Schedule!
Pro Crew Schedule continuously adds new features to help general contractors, subcontractors, and project managers deliver successful projects on schedule, within budget, and of the highest quality. With the 2.8 updates, we have focused on facilitating streamlined processes and developing an easier way to manage construction crews. This update is about "views" and filters, enabling users to switch between different displays. Each view has its layout, preferences and options, time range, and user permissions. It gives users a simple way to look at their schedules to see the big picture and make intelligent decisions about dividing their time or tasks.
The List View is an easy and effective way to organize your scheduled activities for a specific filter. You can choose which data you want to see and how you want to see it for a given date range, status, and one or multiple crews. Pro Crew Schedule adds the "All Crew" feature, allowing you to view all your crews' schedules simultaneously.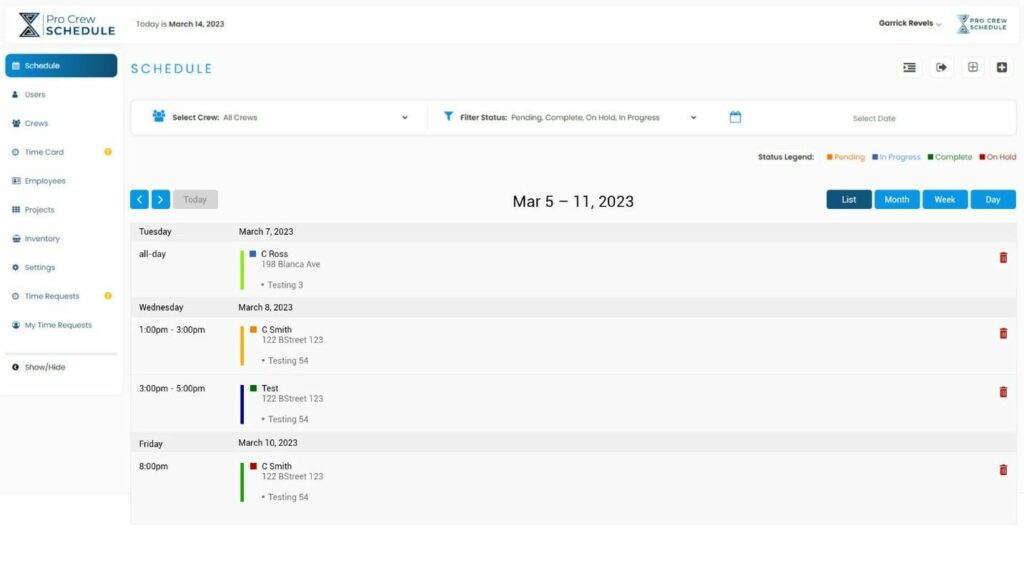 The Month View gives you a quick overview of your activities for an entire month. This will give you a clear view of your days so you can plan out and assign tasks by letting you see your construction crew's tasks and availability quickly. You can filter by status or specific crews to see their availability and layer their calendars in a view for a specific month, allowing a more long-term view and foresight. You can also get a more detailed list of the daily tasks by clicking on the day of interest, which triggers a pop-up window. 
The Week View is a great way to keep track of your project's activities, tasks, and how much time your crew has available for the week. It offers a short-term view of all the tasks you need to complete and helps you efficiently plan out when you can get things done and how it affects the bigger picture – your project's completion. A week view allows you to prioritize your tasks to be effective and see how each crew is doing with their tasks. You can filter by status or by the crew. 
The Day View is helpful for managers and crew leaders who need to see the scheduled tasks down to the minute or by the hour. It features a list of all scheduled events for the day, giving you a strict view of which tasks should begin or end at a specific time. This view allows you to manage and schedule tasks in a structured manner so everything is being monitored closely. You can filter the view by status or by the crew so you can see relevant data. 
With Pro Crew Schedule's Task View, you can see how each task is coming along from a bird's-eye view. All the information about the task is easy to see, from the dates, times, and status to the customer, address, area, and individual crew. You can filter the view by state or crew to see only the critical data of your specific parameter.