Construction Scheduling Software for Subcontractors
Contractors continually face the challenge of delivering quality projects on time. Unfortunately, construction is an industry where projects continuously undergo changes, causing delays, and taking a toll on the finances. This is where a useful construction scheduling software comes in– it should pivot around a detailed schedule of the entirety of the project's tasks, dependencies, and target completion time.
Pro Crew Schedule takes construction schedule to the next level, offering the ability to schedule multiple tasks, easier communication, and clearer information dissemination. Moreover, it has subcontractor scheduling software specific for a number of trades, namely HVAC, electrical, plumbing, concrete, roofing, and painting.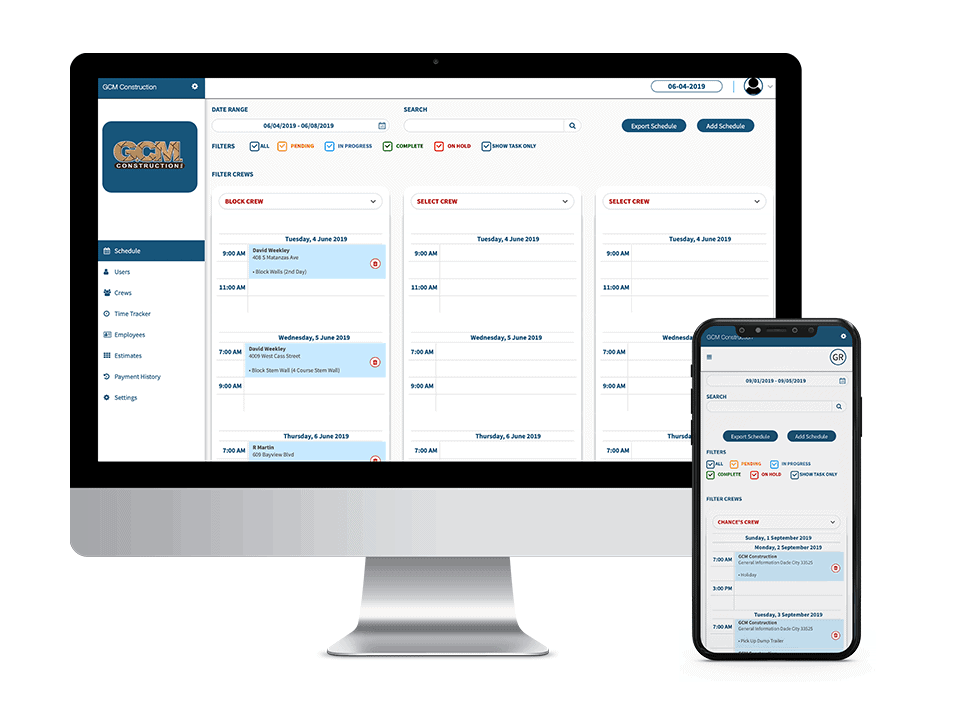 Construction Scheduling Software
for Construction Trades
Commercial construction projects, being on a larger scale, involves contractors and managers accomplishing several sets of tasks within a specific timeframe and budget. To stay on top of things, subcontractors employ a variety of strategies to make those complex tasks more manageable by simplifying and breaking them down.
Pro Crew Schedule integrates the best strategies and practices in this construction scheduling software to aid subcontractors in ensuring their project progresses efficiently and is completed successfully. With just one tool, contractors can manage their staff, supervise the project, and store and share vital information with their team.
HVAC Contractor Software Features
Electrical Contractor Software Features
Plumbing Contractor Software Features
Pro Crew Schedule's plumbing software is unparalleled as it is user-friendly and fully integrates plumbing management solutions that utilize advanced technologies, smart mobile platforms. Subcontractors can stay connected with plumbers on the job and easily manage the business without the mess of papers.
Concrete Contractors Software Features​
Roofing Contractor Software Features
Pro Crew Schedule made sure that its software is not only for subcontractors but crew members, as well. With the roofing software fully integrated, mobile, paperless, and explicitly made for roofers, contractors can supervise their team even when they're not onsite.
Painting Contractor Software Features
Pro Crew Schedule has the most intuitive software for painting contractors. With it, they can take on multiple projects at the same time without sacrificing quality or getting confused in the process. They can even stay connected with their team wherever they are, to schedule, dispatch materials, and track the project's progress.
Construction Scheduling Software for
Subcontractors
Get a free 30 day trial with all features. No strings attached. No credit card required.