Organizing tasks and crews has never been easy with Pro Crew Schedule.​
No contracts. Cancel anytime.
Designed FOR contractors, BY contractors, Pro Crew Schedule is the construction management software of choice for construction companies throughout America. With the cloud-based Pro Crew Schedule construction scheduling software, you can seamlessly manage multiple projects of any size, involving any number of trades and subcontractors.
With Pro Crew Schedule, you can easily: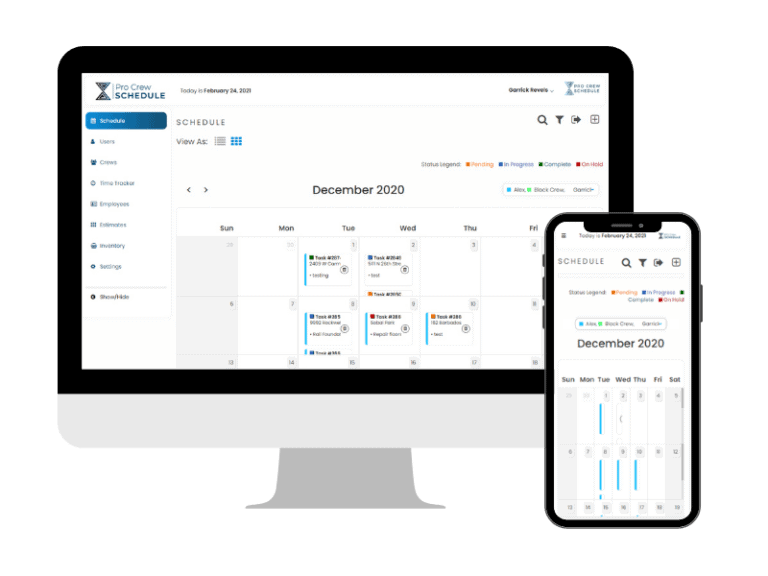 WHAT DOES
PRO CREW SCHEDULE

DO?
Pro Crew Schedule is used throughout your construction company, from office and admin staff to team managers and on-site crew members. It combines a number of key features to make it the perfect management tool for construction scheduling.
Work scheduling
Easily and quickly assign teams, individual workers and even tools and equipment to specific jobs, at specific times, in specific places, with different calendar views available for ease of viewing your construction schedule. Multiple tasks can be assigned at the same time to save re-entering data, and tasks can be easily viewed and managed by filtering according to what is pending, in progress, complete or on hold.
Time Tracking
Maintain digital timesheets and track progress for all your workers, with clock in and clock out capabilities, for easy processing and speedy subcontractor and employee payments, as well as making it easy to analyze completed projects.
Document Sharing
Whether job photos, estimates and quotes, past contract paperwork and invoices, maps, blueprints and other designs, Pro Crew Schedule provides unlimited document storage, with every document easily accessible whenever and wherever it is needed: no more calling HQ or rummaging around in email folders when out in the field.
Team Communication
With task checklists, task filtering and notifications all built into Pro Crew Schedule, it has never been easier to know where everybody and everything should be at any point in time, rapidly dispatching teams to where they need to be every day of your projects. With the same information accessible to everyone via their computer, tablet or phone, there is no scope for miscommunication or crossed wires.
Problem Solving
With Pro Crew Schedule, it is easy to quickly troubleshoot issues before they become big problems, by quickly sharing information about the issue, such as photographs or other relevant information, and rapidly redeploying resources within or between jobs as needed. Rapid problem resolution means increased customer satisfaction and repeat business.
Why Choose Pro Crew
Schedule ?
Pro Crew Schedule provides a number of advantages, which is why it is the construction and contractor scheduling software of choice for so many. 
This Includes:
We offer a free no obligation demonstration of Pro Crew Schedule, designed around your needs and your schedule.