Earlier this year, Pro Crew Software decided to exhibit at this summer's Southeast Building Conference (SEBC) tradeshow at the Gaylord Palms in Orlando, Florida. SEBC is the largest construction and home building industry conference in the southeast United States. 2019 would be our first time at this event, but it definitely won't be our last. SEBC was top notch, all the way. The people putting SEBC together made every effort possible to make it a successful show, not just for us, but for all vendors in attendance. 
               If you never had the pleasure to visit Gaylord Palms, you just don't know what you're missing. This place is amazing. Once you step inside the doors, you are transported not into a hotel but into a world unto itself. It's hard to believe this place is an actual working hotel. It was built around a massive, soaring glass atrium that looks on the inside like a Brazilian jungle, complete with rivers filled with fish and alligators on display. Calling it impressive is an understatement. Add to this the largest building trade show in the Southeast and it makes for a perfect few days.
               The staff of Pro Crew Software had a lot of preparation to accomplish before the show. We created all new marketing materials, videos, displays, booths, and so on. With the whole team focused on this one goal, we were able to pull it off. Nothing like pushing it to the wire, but we had full confidence in our team.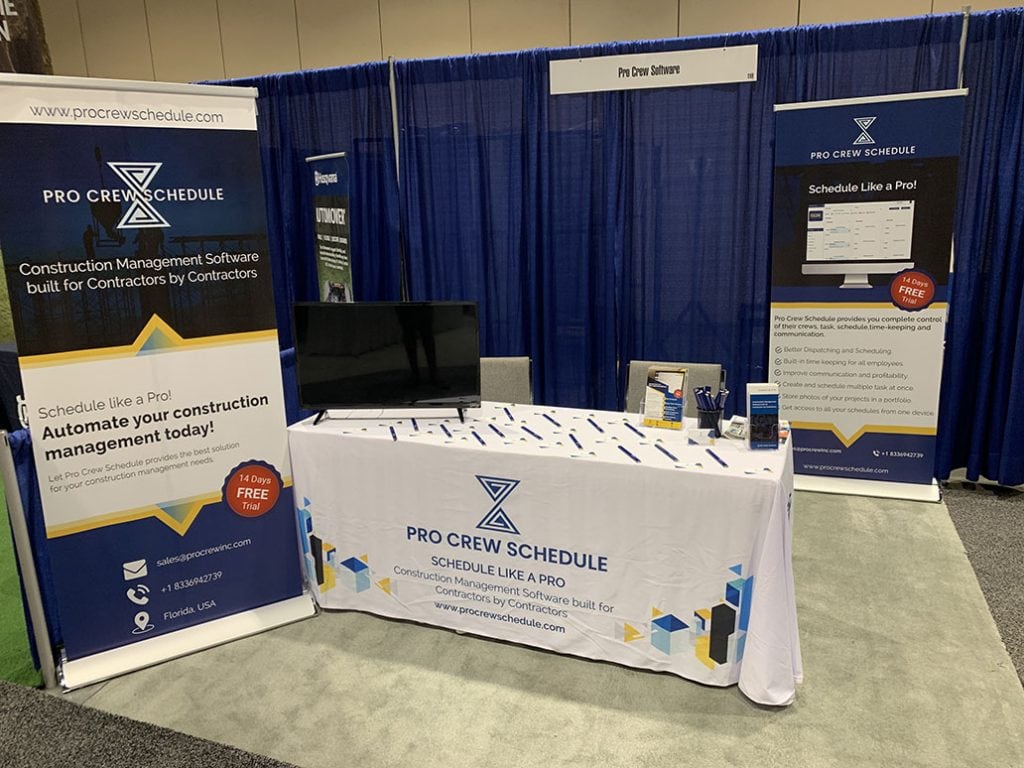 We arrived one day early. Part of this was for a bit of sightseeing, but most of it was to set up. We went over to our assigned booth after ogling the hotel and its gorgeous interiors. As soon as we arrived, we began unpacking and started setting up. This was a good move because we had technical issues with our television setups. It took a long while to troubleshoot the issue down to an HDMI cable that was on the fritz. After the stress of our equipment not working, we got our display finalized and had the opportunity to walk around as other vendors were setting up. Everyone was friendly and we even got a one-on-one demo of really impressive knives. I had to stop myself from buying them. They were so sharp, I figured I would cut my fingers off. After wandering around, checking on our display, chatting with vendors who stopped by, we finally left for our rooms. After all the excitement, we decided to order room service and rest before the show tomorrow. 
Showtime. The doors opened, people started coming in to the show space. It definitely felt surreal. The first day of the show was by far the busiest. There was a constant flow of contractors, builders, subcontractors, and the general public. We had the opportunity to talk to hundreds of people. Each person who stopped by became a colleague and a friend and we took the time to figure out how we could help them with the issues facing their construction companies. We were a great fit for some companies, and not so great for others. That's okay. We got a lot of feedback and questions from everyone. Some of our conversations with contractors were so good, we decided to incorporate some of the ideas those conversations  generated into our next feature update. (More on this later.) After a full day of talking with everyone and standing on our feet all day, we were exhausted. When the convention doors finally closed, we all decided to eat at on of the impressive restaurants inside Gaylord Palms. 
The day started off fast.  A large group came in at the start of the show and for a while things were fast and furious. Overall however, Day 2 was slower. That was a blessing. The slower pace gave us the opportunity to really talk to people about their businesses and take a more personalized look at how we could help them grow their companies by using construction scheduling software. The slower pace even allowed us to have lunch, something we couldn't do on the first day. We talked to a lot of people and showed them the software in action. It was nice that we could not only answer all their questions about the software in real time, but let them navigate the software and give them hands on time with our applications. When 4pm came, we started taking down the booth and packing up. There was a feeling of relief, exhaustion, and accomplishment. The only disappointment was  that it was over so soon. I got chosen to take everything to the truck in a thunderstorm. By the time the truck was loaded, I was soaked. Wet rat doesn't even explain it properly. Seeing as this was our last night at the hotel, we decided to really explore the hotel. There is so much to see inside this place. Words can hardly do it justice. We choose the Italian restaurant for dinner and after an amazing meal, retired back to the room for the night. 
Once we left the next morning, we visited some family in Orlando, and headed for home. I look forward to next year's show being bigger and better. 
Taking everyone's comments and suggestions into consideration, we decided to start developing an Inventory program. This was the most requested feature at the SEBC and we felt it was a good fit for Pro Crew Schedule. We have been developing this specific feature since September 2019, and we are excited to announce that we have a full release in the 1st quarter of 2020.
You can check out our Inventory Page to get the latest information, but here are a few Highlights.
Multi Warehouse 
Tool Check In and Check Out 
Consumable material inventory tracking 
Scan materials in and out
Pick List for crews