Introduction
Making sure that the construction project is running smoothly is not easy. It includes a lot of challenging tasks, managing people, handling schedules and finances, and a lot more.
Fortunately, because of the continuous advancements and creation of digital tools, our specific needs as construction project managers can be addressed as these digital tools play a huge part in helping us manage and simply schedules, processes, as well as improving communication, and enhancing document management.
The Truth About Construction Timelines
Time is at the essence in construction. One day of delay could already mean thousands of dollars are lost. For a client this is downright frustrating and for a construction business this can damage its reputation.
The construction industry is not an easy business. Think about it, there are hundreds and if not, thousands of moving parts involved in the construction activities. These parts include building materials, cranes, lifts, trucks, and other equipment. A major concern in construction sites, though, is if the materials don't arrive on time. It can be the cause for lesser productivity, increased operation costs, missed deadlines, and failure to achieve project milestones.
Based on a report by the global consulting firm McKinsey and Company, on average, most large construction projects are delayed by around twenty months. This is often caused by failing to hit deadlines and by not scheduling efficiently. This problem should not be taken lightly as this would mean a significant real-world cost.
An excellent project schedule is a critical step toward finishing a project within budget and on time. Construction project schedules are expected to provide a much clearer picture of all project milestones, deadlines, and timeframes. It should be consistently updated to monitor and track progress to show several phases needed to be completed. As a project leader, how are you keeping and running the project on schedule?
Relevance of Project Schedule
Construction companies require a multitude of professionals and skilled workers to achieve the client's desired building. They are typically paid by the hour, making salary as one of the biggest expenditures in a project. Hence, the client wants to get an assurance that these resources are utilized efficiently at the site to maintain the budget of the project. And time management is one way to ensure that all these people are putting their time to the right use. 
Time management in construction means organizing activities and implementing conscious time frames to these activities. The main purpose of this strategy is to enhance the proficiency and productivity of workers. 
While workers can strategize on their time, it is important that the project manager takes the lead in assigning each member's schedule. This is so that all activities are aligned to the master plan and for the daily activities to be really organized. When workers are left off alone, they can start with any task they feel like doing for the day and without time frames, they may be tempt to relax.
In short, time management in construction is one of the responsibilities of the project manager. With so many people working at the site, it can be difficult to keep everyone working efficiently. But thanks to existing time management techniques and tools lime project management software, aligning the activities with the builders' schedule and the client's objectives can be a lot easier. 
In implementing time management for a broad range of construction activities, intelligent strategizing is needed most especially in planning, scheduling, and prioritizing. 
But before going to the strategies on better time management, let's first look into the importance of time management in construction.
Effective time management is used to lower the overall construction cost by assigning workers with attainable daily and time frames. This is also to ensure that they make an efficient use of their energy and billing hours.
Time management organizes the approved time frame by the client into schedules of milestones for the purpose of meeting the deadline or even beating it.
Time management helps in securing the contractor's profitability as they are legally binded in a contract with the client where delays can result to a partial lost in profit or termination of contract.
Since time management techniques help complete the project on time, it can impress the client leading him to create a positive testimonial for your construction firm that will be useful when getting a new project. It can even win the trust of the client leading him to reward a new project to you. 
In short, effective time management is crucial in successfully meeting the approved budget and deadline set by the contractor. It isn't a mere tool for keeping work organized at the site but the key to achieving profitability. 
Guidelines for Generating A Good Timetable
There are numerous simple scheduling practices implemented in construction. However, with more complex and larger projects these days, there is a need for more practical and formal scheduling procedures. Having a handy, simple-to-use, and detailed construction schedule means that the suppliers exactly know what and when to deliver. Additionally, subcontractors will quickly learn when to book their tradesmen and laborers. Even other stakeholders and general contractors can track the overall progress of a particular project.
A good construction project schedule is continuously updated, accurate, and detailed, wherein communication on the project is the topmost priority. Team collaboration is also one huge factor because it supports the successful project completion. A great starting point for articulating a well-planned project schedule is asking the following questions. And if the construction schedule can answer the questions cited below, it is proven to be efficient enough to track and monitor its progress.
What tasks have to be carried out first?
What is the duration of every task or activity?
When these tasks needed to be done and in what order?
What are the sets of resources required for every task?
What are the dependencies existing between the tasks involved?
Who has a strong competency to perform every task?
What are the project milestones? Determine it.
What works necessary to be achieved at those points?
Methods, Techniques and Approaches
Although schedule delays cannot always be avoided, you can at least lower its impact by establishing some effective methods and practices. Using the best construction project management software also helps in ensuring that your daily activities are in sync with your plans. Find out how to achieve success in your construction project here:
Apart from the tips above, you can also use methods, approaches, and techniques to make sure that the schedule set for the project is reliable, reasonable, and realistic.
Here are three approaches, methods, or techniques you can do:
Critical Path Method
The critical path method is the most common method for scheduling projects. It uses a step-by-step technique that allows you to know the timeframe of each task and lets you know which of these tasks are critical or noncritical. This method is effective because it plays a part in preventing project delays by recognizing which tasks must be completed to have a successful project.
Q-Scheduling
This method focuses on the classification of activities and how it connects to each other. To keep it simple, it helps in avoiding two or more tasks or activities to happen or be done at the same time and place. Apart from that, Q-scheduling also recognizes and reorganizes repetitive activities to maintain the balance in scheduling.
Line of Balance Technique (LOB)
This project scheduling method focuses more on apportion of resources and repetitive work as needed per different construction operation and process steps. This type of scheduling technique is proven to be effective in preventing delays between the activities involved. Since repetitive builds are often predictable, this method focuses more on resource allocation and is adapted from the manufacturing industry.
LOB helps allocate resources that are expected to be shared among the project teams and other crew. In that way, work can be easily executed on parallel tasks. Hence, the unavailability of a specific resource like materials and equipment will not keep the work from moving further.
Strategic Approach
Create a process or a strategy that works best for the team to move forward. Think about your scheduling aims, what roles should be given to team members, and more. While you're at it, you can make use of a construction project scheduling software tool like Pro Crew Schedule to help you manage or establish the implementation of your new strategy.
There are lots of project scheduling software tools out there but it is important to find one that gives your crew the functionality they need in a construction tool. But before you implement the new strategies, you must first reflect and have a clear idea about the process by asking some essential questions such as the following:
Is it necessary to create and use templates to boost the scheduling for future tasks?
Do project updates have to be done on the worksite?
Is managerial reporting an important requirement?
Does the firm have to share schedules with the client or subcontractors?
Does the tool let the firm to take advantage of growing and changing trends in construction management?
In case there is a need for technical support, is it readily available?
Who will be responsible for making and updating schedules?
Once you've found the answers to these questions, it is time to train users on how to use the system and how the newfound strategy should be performed. This training session can be done for one or two days just to get the users familiar with the project scheduling and management process. You can also provide more pieces of training in the future to refresh their memory on the features of the software and even teach new techniques on using the software.
Most importantly, keep in mind to review the method or process of the project controls to make sure that it is performing and functioning at its best. Using a strategic approach to manage projects takes a lot of work and can be challenging, but the results are worth it in the long run if the company is consistent in performing much better than their competition, increase their efficiency, and maximize their profits.
Construction Scheduling Software
Scheduling software is a functional project management system designed for contractors and small builders looking for simplified and efficient project management. Using this software, it is easier to realistically layout and monitors each project phase. With the data inputs stored in the application, shaping a better project timeline is much easier. Even beginners will never have a hard time navigating the features or understanding the application because it is user-friendly.
Document/File sharing and control, cloud-based storage, time/labor tracking, crew and resource management are standard features of this software. It can be accessed anytime and anywhere, using the browser and mobile app. Above all, the completion of the project will not be put to possible risks.
Creating a Construction Schedule: A Checklist
All construction schedules should include the following information:
The schedule creation date, so that you can track versions if necessary.
The names of the project owner and the construction firm that will be carrying out the work.
The names of everyone on the team, from the project owner and general contractor to all subcontractors and suppliers. 
The tasks that need to be carried out, from the planning phase up until the final steps before completion.
The dates that individual tasks are expected to begin and end.
The projected completion date.
Once you've listed all these details, it's time to:
Create a timeline that maps out how long each activity (e.g. pouring concrete for the foundation, laying the wall brickwork) should take to complete.
Identify which team member is responsible for each activity
Assign tasks accordingly.
Key Milestones in Projects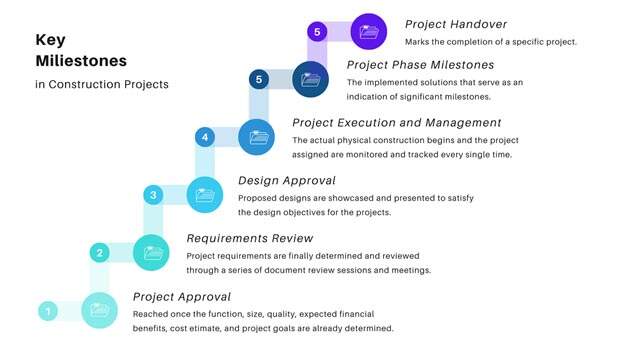 Whether a commercial infrastructure or a personal renovation, a construction project goes through similar paths and phases. Here are the essential milestones of a project in construction. Take a look below.
Project Approval
This milestone is usually reached once the function, size, quality, and goals of a construction project is already determined alongside the expected financial benefits and cost estimation. This particular milestone is typically indicated by the completion of a sales contract or an approval form. It is the very first milestone where a construction project is given the opportunity to move further.
Requirements Review
When all project requirements are finally determined and reviewed through a series of document review sessions and meetings, another project milestone is to be celebrated. However, making sure that the client agrees with everything that the project team has presented is vital to consider as well.
Design Approval
The design approval is considered another critical milestone when the construction project team passes and cleared the client's needs during the construction solution's proposal. Proposed designs are also showcased and presented to satisfy the design objectives for the projects.
Project Execution and Management
The actual physical construction begins in this phase, and this is where managing a project will be crucial from start to finish. A project leader and his team should take all of their tasks and responsibilities diligently. The project assigned and the crew involved are monitored and tracked every single time.
Project Phase Milestones
There are implemented solutions that serve as an indication of significant milestones. Milestones for every project phase might include completing all steps like concrete pouring, window installation, plumbing installation, roofing, etc.
Project Handover
This milestone typically marks the completion of a specific project. It usually comes at the end of testing, extensive inspection, and a final handover session. This phase is where all stakeholders agree that the entire work has been totally finished from start to end where all project requirements are met.
Time Management Strategies
Make a work breakdown structure (WBS)
In order to avoid issues such as disorganization in the team, project delays, missing deadlines, failing to hit the goal, or team members not knowing which tasks or responsibilities belong to whom, establish a work breakdown structure or WBS. By doing so, it will help you break down tasks or projects into mini-tasks or smaller sections which will make it easier to reach milestones, increase productivity, as well as clearly define responsibilities. Keep in mind to always contain all of the work defined in the scope of the construction project. Don't miss any small and important details.
Have Realistic Deadlines
Here are a few tips you can follow to ensure that your deadlines are reasonable and realistic:
Hold a meeting with your team where you can discuss important matters such as talking about which tasks or projects were delayed in the past so that you can analyze the situation and know which tasks to give more time on.
As mentioned earlier, use a WBS system to break down tasks into smaller and manageable sections, and give deadlines to each task. This will make it easier for each member of your team to do the task and hit the deadline. You may even realize that by applying the WBS system, you will know which tasks take a shorter or longer time to accomplish.
Check the projects or activities from time to time to ensure that the deadlines set are still realistic and valid. If not, make sure to update and adjust it with the help of your team's input.
Don't forget to include float
It is important and helpful to build a float for the whole project and all necessary tasks that would cause project delay. To explain further, float refers to the timeline or the amount of time for a certain task or activity that can be delayed before it threatens other critical tasks which can result in project delays.
It will be an advantage to use an app or a construction project scheduling software for this one as you can easily use your common sense and intelligence as a construction project manager to determine how much float you will need.
For example, when you look back at your previous projects as well as the tasks and activities involved, recall the days of float used in a complex task? Were two days of a float not enough? If yes, consider trying three or five days in the new project. You can keep on adjusting until you feel you got it right.
Connect each activity to resources
It's not ideal to schedule an activity if you don't have enough materials for the team to complete the tasks. This will only lead to the members scrambling to look for resources that will only delay the project and decrease work productivity.
All tasks, whether it's simple or complex, big or small, should still have resources set aside for it. These resources we're talking about do not only mean the physical resources or materials. It also includes construction equipment, data, and labor. Resources are everything that is required to finish a task or project.
Review your schedule with your team and stakeholders
No matter how careful you think you have been in checking the details of your project plan and schedule, there will be some details that you might have missed. Include your team in reviewing the schedule so you can be alerted when there's something you missed. Set a meeting with all stakeholders, too, to give them the draft schedule in advance so they can offer you feedback.
How Pro Crew Schedule Can Help Your Construction Company
There are many tools available that allow you to build a schedule from scratch or modify a template to meet your client's project type and its needs. Whichever one you go with, you'll want to ensure that it provides a long-term overview, supports instant updates, and can speedily convey updates to everyone on the team.
One of the best you can find is Pro Crew Schedule.
Pro Crew Schedule offers a collaborative and beginner-friendly platform that lets you schedule tasks and projects, as well as managing your team, and monitoring their time. It also has features where you can communicate effectively with your time, send documents, files, photos, videos, and more. Pro Crew Schedule is a flexible app that allows you to manage all these things in real-time.
Join our Construction Professional group and get monthly Executive Summary for free!